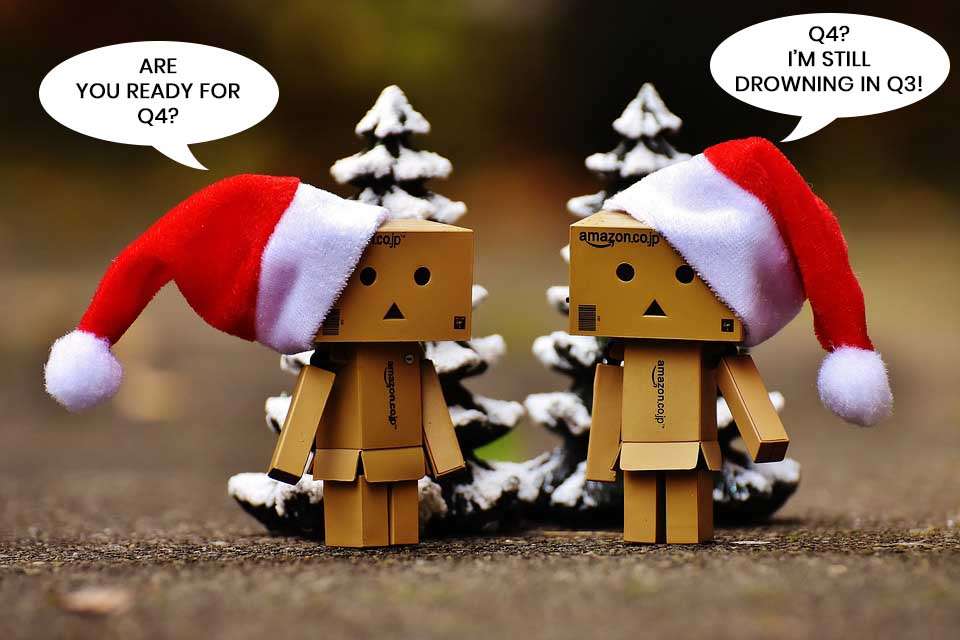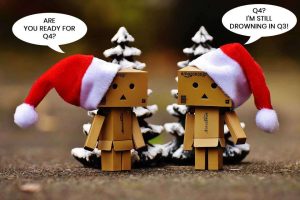 The fourth quarter of the year, starting October 1, is the largest selling season of the year on Amazon, with many of our clients driving up to 75% of their annual traffic and sales in three short months. It's an incredible opportunity to grow share and increase your customer base! With that in mind, there are several "watch-outs" that can trip you up and dampen sales performance. Below you'll find a list of best practices, tried and true across both our clients as well as brands I managed back in my Amazon days…
1. Get your digital ducks in a row – Any catalog item set-up, variation, EDI, packaging, labeling, or shipping wounds you already have will fester like a giant infection during the fourth quarter. Higher chargeback rates, stricter fulfillment center policies, and a slew of seasonal (i.e., less experienced) workers in the fulfillment centers means that your chargebacks and mis-receive/problem-receive issues just got a lot bigger. Do a full catalog scrub and get defects corrects. Also, consider a holiday powwow with your supply chain team to ensure optimum fill rates and quick turnaround time on purchase orders – and put in place strong two-way communication (i.e., daily or twice-weekly calls) if there's a problem.
2. Get inventory in early – Peak inventory week is the week prior to Thanksgiving, and if your stuff isn't in by then, you're probably in trouble. Amazon maxes out their fulfillment center capacity and often truncates orders or has super long receive times. You don't want your product sitting on a trailer waiting to be received while Amazon tries to drain down inventory. Amazon didn't order enough from you? If you have the ear of an Amazon buyer or in-stock manager, request that they update your forecasts. They don't want to be out of stock, either! Consider a hybrid retail / FBA strategy for next year to mitigate this risk…we can help.
3. Content really does drive sales…I promise – 80% of customers buy something on the first page of search results for their given search term – so if you're not there, you might as well be out of stock. The good news is that there's still plenty of time to improve your search relevance! Ensure your detail pages are Amazon-Search-Optimized ("ASO") by including critical search keywords in the title and bullet points. (Note: On average, our clients are only using about 20% of the space available to them on the detail page – so I guarantee you have some room to work with.) Look for items that could be variated into a set (vs. set up on separate detail pages) to improve relevance and rankings. If you don't know how to improve your search relevance, take a look at the winner of the first natural (non-paid) search slot for your term. What can you learn from their detail page?
4. Be ready for some tough pricing conversations…and know your negotiations leverage points – Amazon gets more aggressive about price matching during Q4, with many of our clients seeing Amazon match print-only circulars, in-store prices, obscure retailers, and even similar-yet-not-the-same items. Hopefully you aren't still doing promos where each retailer gets their "day" or "week" to be on sale, because Amazon will match them all – making you always on sale on Amazon and driving Amazon to dial you for dollars. Being prepared for these conversations and knowing your point of leverage with Amazon (are you driving growth, profit, credibility, etc. for Amazon in this category?) is critical for a successful negotiation…and for keeping your checkbook closed.
5. Pay attention to the site – Your competitors on Amazon are the items that show up next to yours in search – NOT who sits next to you the shelf at Kroger – and these guys may require a different strategy. What are they doing well? How do your AMS campaigns look compared with theirs? Do you have mistakes on your detail pages? What questions are customers asking about your products? Being on top of the customer experience on Amazon will help you identify critical competitive opportunities and ways to improve your traffic and conversion. Remember, this is a 24-hour store!
6. Know and monitor your key items and KPIs…daily – The Amazon retail teams conduct daily stand ups; why shouldn't you? Key metrics to monitor during holiday are daily POS units & revenue, in-stock rates, traffic and conversion (if you have access to this data), reviews and Q&A (taking time to respond to negative reviews and questions), search metrics, and AMS campaign performance. It's also a good idea to monitor your PO confirmation and fill rates to ensure your supply chain is keeping up with customer demand.
7. Develop an employee coverage plan – When I led teams at Amazon, I was always surprised how difficult it was to reach key contacts at brands during Q4. It's almost as if people went on vacation (insert snarky chuckle.) Amazon employees don't take vacation during the holidays, and neither should you. If you must travel to Aunt Mary's in rural Wisconsin, please make sure she has wifi, and keep your phone on the Thanksgiving table next to you while you eat your Tofurkey. If you really must visit Patagonia this Thanksgiving, develop a coverage plan across your internal team to delegate key decisions.