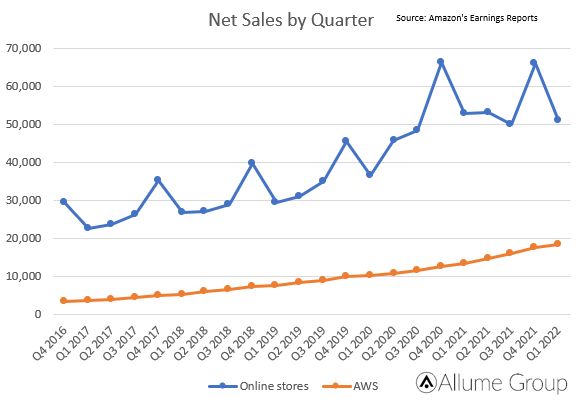 ✔️#Profit took a nosedive as Amazon realized a loss of $3.8B, largely driven by a $7.6B loss on Rivian and an incremental $2B in incremental costs due to inflation and overstaffing / productivity. Netrevenue growth was lackluster at 7.3%, the second straight quarter of single digit growth.
✔️Amazon launched an increase in FBA fees (fuel & inflation surcharge) last week.
✔️Amazon is a services company now vs. a retailer! Services surpassed online and physical stores this quarter, representing 52% of total net sales.
✔️Amazon has waaay too much capacity . Was mentioned on the call it might take "a few quarters to grow into". Probably why they're launching BuyWithPrime and letting other retailers use their fulfillment / transportation.
✔️Small but important detail, their transportation arm is getting more efficient. On this call, Brian mentioned they are "seeing savings vs. what we'd get from external carriers" vs. previous quarters where they said their own transportation was "becoming competitive" with external carrier rates.
✔️Progress on healthcare disruption! Amazon is on track to launch 20 new AmazonCare facilities this year, and Alexa will now connect you with doctors and discuss common ailments.
✔️#AWS is the clear darling and appears to be inflationproof. No wonder they put Jassy in charge. Consistently adding about $1B incremental sales/quarter. They are forward deploying services via "local zones"; added 16 in the US and are planning 32 more across 26 countries.
You know what's *not* a seasonal business? AWS. Check it out.